It's always a treat to have a California king bedroom set. Even if you don't have a partner and you are the only one who's going to use it, having a bigger bed can bring an elegant vibe to your bedroom. It gives you more space to move around as well. But, king beds are not always a great choice, especially for people with small bedrooms.
If you're planning to get a California king white bedroom set, you should know how to pick the right one. We listed down some of the factors that you should consider before you buy a king bed.
Buying a King Bed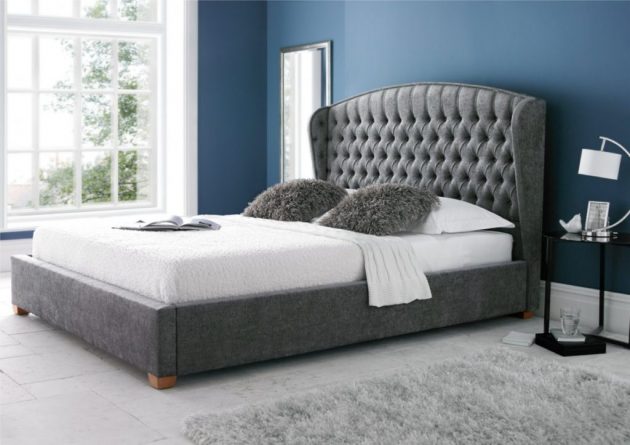 1. Space in Your Bedroom
The most important thing that you have to consider when buying a king bed is the size of the area. Never buy a king-sized bed if you only have a small bedroom. A king bed should only be considered if you have a room with a dimension of at least 12 feet by 10 feet. You would at least have some moving space in your bedroom and you can add other smaller furniture. If your room is smaller than that, you should think about getting a smaller bed instead.
When you buy a king-sized bed, you need to have at least 30 inches of moving space around it. This is practically the same when you are planning to put the bed beside the wall. If your room is extremely big, you can use the king bed as a centerpiece and work on the furniture around it.
2. Who's Going to Use it?
Another factor that you should consider is the people who are going to use the bed. The elegance of a king-sized bed is definitely something that you want for your bedroom. Even if you're the only one using it, there won't be any problems. However, not everyone has the same opinion when it comes to this.
For a white California king bedroom set, most people will only consider it if they have a partner living with them. If you want your kids to sleep with you or you have pets who love to cuddle at night. There are other furniture pieces that you can place inside the bedroom aside from the bed so if you're the only one using it, you might consider a smaller one like a queen-sized bed.
Again, the choice is yours. You can get a big bed no matter what your circumstances. It will always depend on your preference.
3. Style of Sleeping
There are instances when buying a king-sized bed becomes a necessity. It is usually related to your style of sleeping. Some people sleep in the same position the whole night, while some change positions multiple times. If you're the latter, you might need a bigger bed to allow you to move as much as you want without hurting yourself.
If you think that a smaller bed can lead to accidents while you are sleeping, you can get a bigger one. There are other methods to prevent you from falling, but if you don't want any hassle, just get a large bed so you can move around without worrying about falling off the bed.
4. Bed Frame
There are two important things that you need to pay attention to when you're looking at the bed frame: the size of the frame and the type of bed frame.
Size
The "King" is actually the size of the bed, but the frame usually has a different measurement. You cannot have the same size mattress and frame. The frame should be bigger and wider. Most of the king bed frames are wider by about three to five inches. This is done to add more visual weight to the bed.
Never buy a frame that has the same size as your mattress. To get adequate support, your frame should always be a few inches wider.
Types of Frame
Aside from the size, you need to be very meticulous about the type of frame that you're going to choose. You cannot simply pick a California king size bedroom set without looking at the type of bed frame that it has. Here are some of the different types of frames that you can choose from:
Platform Bed Frame: This is a type of frame that is known for its ability to hold your mattress without any added support. What does it mean? It means that this type of frame can hold your mattress without foundation or box spring. It is very close to the ground so you don't need to worry about the frame going down or breaking when you lie down on the mattress.

Wood frame with wooden slats: Wood bed frames can be customized depending on your preference. You can choose any type of wood you want and you can consider any kind of design. The wooden slats will serve as the additional support for the frame that will hold the mattress. These slats run across the width of the bed.

Metal bed frame: This is one of the most common types that you can find in the market. Metal frames are very reliable and durable. It is known to last for many years and it can withstand the extra weight. However, there are instances where the metal frame becomes noisy when you're moving too much.

Panel bed: This type of frame comes with a base, headboard, and two side panels. All of these can help you build a four-wall frame. This is very unique and it is known for its stability. You can add a box spring and include a heavy mattress if you want. This is very durable so it's a popular choice for most homeowners.
5. Health Issues
When you're buying a California king bedroom set or any type, you need to know exactly what you need in terms of your health. Some people are suffering from back and neck pains so they usually opt for a bed that provides adequate support.
Most athletes, physiotherapists, fitness buffs, and naturopaths will do a lot of research on the bed before they buy one. They usually check the mattress, pillows, and other accessories included. This is to make sure that the bed will not cause you any kind of pain.
This particular factor is only applicable to people with problems with their neck and spine.
6. Price
This will always be a factor when it comes to bed frames. You need to be very strict when it comes to the price. You have to remember that your bed needs to have the best mattress. It means that you can't just any type of mattress you see. You need something that would last for a long time.
Well, it also means that you'll have to spend more on the mattress. The same thing goes with the frame. A sturdy frame is very expensive and you should only consider a cheap frame if you don't mind it breaking after a few years.
Simple Tips to Buy the Best King Bed
Once you've found all the factors that would help you pick the right one, we've got a few tips to help speed up the process of finding a good king bed. Here are a few things to consider:
1. Ask Your Friends and Relatives
Nothing beats asking your friends and relatives for recommendations. They can give you some idea on the best type of bed to consider along with its features. The best thing about this is that you can check the item yourself and you can decide whether it's good or not.
Your friends and relatives will always recommend the best beds so you should consider them first.
2. Always Check the Features
Don't just buy a bed because of its looks. You need to check the features before you buy them. You should even check if there are negative reviews as it would help you pick the right one.
The first thing that you need to do is to start checking the features of the bed. See if the design fits your preference and start listing them. You can use the list to narrow down your choices. This would at least make it a bit easier to pick a good king bed.
3. Check for Damages
It would be very difficult to return an item if you only saw the damage when you went home. You need to check if there is any damage to the frame before you buy it. You should never buy the display item as well.
Even the smallest damage can cause a lot of problems in the future so you need to be very careful when buying.
Final Thoughts
You can check the California king bedroom set if it has all the features that you need. It is better to check it multiple times and read some reviews so you can at least have an idea of what you're buying. The factors above will be a good way for you to decide if a particular material is right for you.
If you are looking for the best king bedroom sets on the market, we've got a range of products that are waiting for you.