Styling a chest of drawers is not too complicated. This is a very simple piece of furniture so finding accessories to make it more beautiful and outstanding is not as difficult as you think. If you have a 3 drawer chest, you need to figure out the best accessories that would go well with it.
Designing your chest of drawers is easier said than done so we will give you a few simple tips on how you can style your drawers and complement the overall look of your bedroom.
Styling Your 3 Drawer Chest
1. Anchor the Drawers in their Place
The most important thing that you need to do before you add other elements to your chest drawers is to pay attention to the space above it. By putting something essential on top of the drawers, you can anchor it in place. This would make it one with the room design.
The best way to start is by putting a wall mirror or framed art. Take note that the artwork should be placed on the wall on top of the drawer and not directly placed in the space above it. You will have to put other elements there later on.
You can choose a circular mirror to balance the vertical lines of your chest drawers. This will create a contrast and bring a unique look to the space where the drawer is placed. If the drawers are tall, the mirror should be placed directly above them. If it's wide, you can put the mirror on one side. If the drawer is below the window, you don't need to add any anchors. Allow natural light to enter your room and don't put anything on top of it.
2. Add Some Height
Once the anchor is placed, the next thing to do is to add some height to your drawers by adding candlesticks, a vase, or a lamp. Basically, if the drawer is tall and the mirror is in the middle, make sure that you add the vase or lamp at the side so the mirror will be left unobstructed.
If your chest of drawers is wide, the tall object should be placed on the opposite side of the wall art or mirror. Also, take note that the tall object that you will place on top of your drawer should be shorter than the mirror or wall art so they won't compete for attention.
A good tip would be to place the mirror or artwork on the left side and the tall object should be on the right. When you look at the Ikea 3 drawer chest, your eyes will naturally look at the mirror or work first before it proceeds with the tall object. It's like reading a book.
3. Include Memorable Items
If you are fond of watching movies, you will notice that most of the chest drawers have memorable items on top. There are instances where the most important things are placed on one of the drawers. There's a reason why most people put their memorable items on top of the drawers.
When you enter the room, you don't look at the bed immediately. Your eyes will naturally notice the mirror, which would lead you to the drawers. You will constantly look at the drawers when you're inside the bedroom so it's better to add a few memorable items that would bring calm to your mind. You can add framed photos or you can put some of your favorite books.
If you plan to add books on top and your drawer is a bit short, you can stack the books underneath the tall object that you placed to give it a bit of height. However, make sure that the tall object will not exceed the height of the mirror or the wall art.
4. Placing a Simple Storage on Top
A drawer is supposed to hold your items for you and keep them safe. However, not all items are supposed to be kept hidden. There are things that you habitually put on top of the drawers like keys, mobile phones, and more.
Although this tip is focused on functionality, it is one of the best styling methods that you can use. Place small storage on top of your drawer. You can put a tray on top where you can put any items that you want after a day's work.
The tricky part is choosing the storage item that you will put in your drawer. If you have a white 3 drawer chest, you can use a rattan tray for this as would serve as an accent to the drawers. You can also turn to black trays if you want.
5. Put Plants on Top
Plants will always be a good addition to your bedroom and they are not only placed on the floor. You can get small plants that you can place on top of your drawers. Instead of the typical candle or vase, you can replace it with plants instead.
You'll have to do the same trick as the others. Place the mirror or artwork on the left side and the plant should be placed on the right side. If you're not planning to put a mirror or artwork, you can use the plant as an anchor and place it on the right side of the drawer.
Aside from this, plants add more color to your bedroom. Whether you're using a white or gray palette, adding a bit of green can bring life to your bedroom. A snake plant can be a good choice for this because it is low maintenance and it would grow well under indirect lighting. Flowers can be a good choice as well, but they require more care and maintenance.
6. Personal Fragrance
Some of you might think that fragrance is not something that can bring attention to your drawers. Well, this is a big mistake. Although the scent is not something that you can see with your eyes, just the idea of the fragrance coming from the drawers can already attract plenty of attention from the guests.
You can add your personal perfume on top of the drawers or you can just put a scented candle there. Fragrance diffusers can also be a good choice, but you need to pick the right design for this before you decide.
Remember that the goal of styling your drawer is to capture the attention of your guests.
How to Choose a Chest of Drawers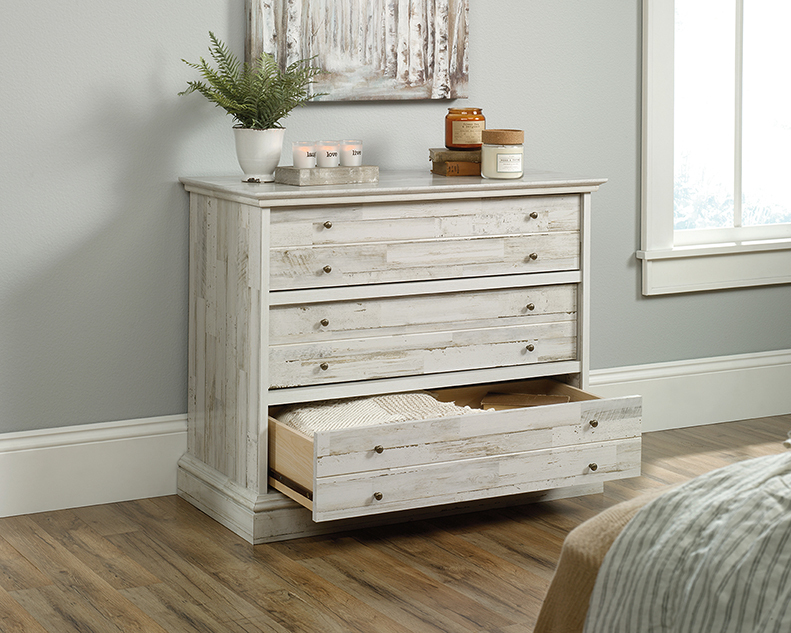 It's easy to just pick any chest of drawers that you see. Some won't even spend time choosing because they only consider it as a place to store things or something where they can put their vase or lamps. A chest of drawers can be a focal point in your bedroom so you need to be very picky when choosing one. Here are a few tips on how to choose the best 3 drawer chest for your bedroom.
1. The Style of the Drawer
Since we are looking for 3-drawer chests, you need to focus on the style. Remember that the overall look and feel of the chests of drawers would depend on their style and design. You need to pick one based on the design of the other furniture in your room unless you want it to be the focal point.
You can opt for a vintage or mid-century design or you might want something light and minimalist. There are also modern drawers that can bring a unique ambiance to your bedroom. Look around your bedroom and think of a style that would blend well with your current interior or something that would bring a good contrast to the colors and design.
2. The Material
When choosing a drawer, you need to be very meticulous when it comes to the materials it's made of. Take note that the material will not only dictate the appearance of your drawer, but also its durability.
Wood is the most common option when it comes to drawers. It works well with contemporary and traditional bedrooms and they are very sturdy as well. With the right maintenance, your wood drawer can last for many years.
You can opt for metal drawers if you want as they can deliver more color and design to your room. You just have to make sure that the drawer is made from high-quality metal with high rust resistance.
3. Functionality
Always choose drawers based on their functionality. While the look is definitely a good start, you always want a drawer that can bring that extra storage that you need. Besides, you are getting a drawer primarily for its functions unless it would be the focal point of your design.
You can opt for a wide or tall drawer depending on your choice. If you need more storage space, you don't need to buy a 3-drawer chest. You can get something bigger.
Final Thoughts
Styling a 3 drawer chest is not as hard as you think. Although we've mentioned a lot of tips on how to properly design it, you can literally place anything on top and it would still look great. It will depend on how you want the chest of drawers to look in front of your guests.
If you are searching for a top-quality chest of drawers, we've got a wide range of items that you will surely like.