Your bedroom isn't just a place where you sleep. It's a personal area where you can rest and find sanctuary when tired or stressed. Your task is to fit the bedroom to your style. And while you did that, it bothers you that you haven't changed anything for a while. If you feel it's time to renew the décor, this guide offers how to do that without breaking the bank.
Even a small adjustment could make the entire area different. You could also go with a 5 piece king bedroom set or other major changes. It depends on your preference, but these tips will help you find motivation and inspiration!
What Are the Tips to Renew Your Bedroom Décor?
Most homeowners look to find a balance between appearance and functionality. It's nice when the aesthetics impress you every time you enter the bedroom. But it's even better when it offers a comfortable haven to rest and relax. Here are the different approaches to boosting the bedroom décor!
1. Choose Neutral and Soothing Colors
Your inner creative designer might tell you to pick bold shades for the bedroom. But experts suggest that dominating colors should be neutral and soothing. The idea is that they provide a relaxation effect without tiring your eyes. Even those colors should help boost the comfort and coziness felt in the bedroom.
Grey and beige are always excellent choices for the walls. You can spice things up with unique patterns on bedroom fixtures, such as dressers. Adding a pillow of different color can boost the style. And there are plenty of decorative pieces, such as plants and frames, you can insert to ensure the room's appearance isn't "boring."
2. The Importance of the Ceiling
Professional designers don't observe it as a ceiling but as another wall in the bedroom. You might have picked all items and colors for the four "standard" sides. But once you look up, you'll see the 5-piece king bedroom set doesn't fit with the ceiling. Another thing to consider is you'll spend a lot of time in the lying position in this area.
If you lie on the bed, you'll have a view of the ceiling. There's no room where you'll look more at it than this one. So pick a subtle and soothing color for the ceiling. If it's your cup of tea, feel free to place moldings, chandeliers, and other decorations.
Another trick suggested by experts is lowering the ceiling. The idea is to make the room more compact. It'll ensure a more intimate feeling and boost comfort.
3. Move Unnecessary Furniture and Stick to Minimalism
The secret of beautiful design lies in simplicity. Are you among people who feel better when they enter a spacious room? If yes, it's time to free up some inches by removing unnecessary furniture. 
Do you need that big closet for clothes? Redecorating your room is the perfect time to declutter it. Start by donating clothing items you haven't worn for a while. Next, get rid of all furniture pieces that aren't absolutely essential. The minimalistic approach will ensure the bedroom starts "breathing." It's enough to have basic furniture items and simple decorations. You'll feel the minimalistic flow that allows you to relax and unwind. And if you can get more sunlight into the room, don't hesitate.
4. Add Plants with a Soothing Effect
You don't want to go too far with decorations, but you still need them in the bedroom. The basic additions include plants and picture frames. You need several herbs to place on the nightstand, dresser, or the floor. 
Experts advise choosing flora with a beneficial effect. For example, jasmine and lavender are famous for their soothing characteristics. If you don't want plants in your bedroom, candles are the perfect alternative. For example, a lavender one on a nightstand can contribute to tranquility and sleep quality.
5. Use Artwork to Add a Personal Touch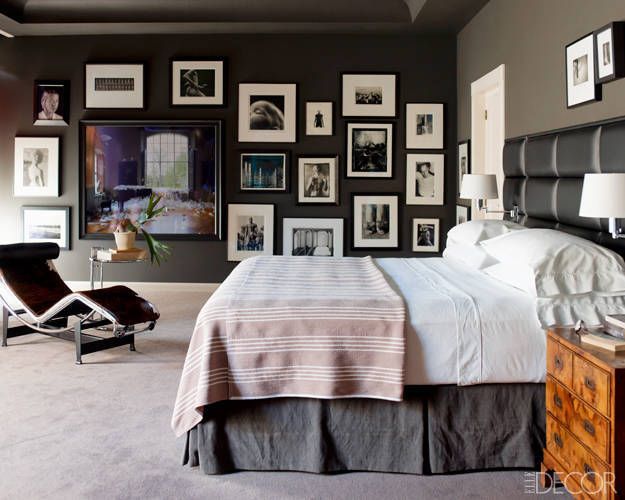 It's your bedroom, so it's necessary to add a personal stamp to it. And what's better than artwork for that goal? If you have drawings, put them in a frame and hang them on the wall. Pick a piece you adore, so you are proud when looking at it.
Alternatively, choose pictures that have a deeper meaning. You could go for a family photo or place a poster of your favorite artist.
6. Have Multiple Lighting Options
If you enter a nightclub during the daytime, you'll have a completely different impression of the area. But once the evening comes and they turn on the lights, it'll reach its full potential. It's the best example of how illumination can have a powerful effect on an area.
That's why you need multiple lighting options in your room. You can turn on the primary source when you need optimal brightness. But what if you want to read a book before sleeping? You can place a lamp on the nightstand. You can also put wall spotlight fixtures above the bed. The idea is you can turn the illumination on and off without getting up. And you could also use accent lighting for the dresser and the mirror.
7. Save Time and Money with a Bedroom Set
If you aren't looking for a minor fix, it could be time to renovate the entire bedroom. That means you'll need new furniture pieces. And if you buy an entire collection, you'll save money compared to buying separate items.
Bedroom sets are available in different styles. You can pick a modern combo for a contemporary room. And you can get a 5 piece California king bedroom set to create a traditional décor used by the aristocracy.
The Best Bedroom Sets to Consider in 2022
The items included will vary on the selected collection. You can pick sets with three to five or more pieces. Here are the usual furniture items included in the set:
Bed

. It's the integral piece, so it's vital to be of the highest quality.

Nightstand

. A small table-like structure that goes next to the bed. You use it to store the essentials you need nearby.

Dresser

. It's a unit you use to store your clothing but also get ready to go out.

Mirror

. That's often an additional component that comes with the dresses.
If you need suggestions, you can't go wrong with the following bedroom sets!
Have you always dreamed of sleeping in an aristocratic bedroom? Homey Design helps capture the luxurious style with its Luna Silver Eastern King Set. The manufacturer used wood and composite compounds but also leather as the upholstered material.
The king-size bed is spacious and creates that luxurious feeling. You'll feel like royalty when you check the unique headboard pattern. Homey Design includes two identical nightstands to deliver a symmetrical appearance.
You also receive a dressing unit with a mirror. The silver finish and stylish patterns capture attention immediately. The dresser has six drawers in a 3x2 layout, ensuring generous storage space. You receive an oversized mirror with dimensions of 47x39 inches. It's possible to check the entire upper body to ensure you look flawless before going outside.
Modway designed its Tracy bedroom set for compact-sized areas. It comes with the essential four pieces, and the entire collection is available at an affordable price. If you have an entire bedroom to yourself, this will ensure you renew its décor easily.
Tracy Queen Bedroom Set offers a minimalistic design. Each unit looks simplistic, but that doesn't compromise quality. The bed comes with a headboard with fine upholstered material and foam padding. It ensures maximum comfort whether you spend time sitting or lying down.
The manufacturer adds a simple three-drawer nightstand, as well as a dressing unit. Each compartment section offers generous storage, ensuring you can fit linens, clothes, and other items.
Are you dreaming about a modern and minimalistic bedroom? If yes, you don't need anything else apart from this Whiteline collection. The manufacturer kept contemporary details in each furniture piece. The bed has a low frame but a huge headboard behind it. It's spacious enough for two people to sleep, but you can also sit and read a book or watch TV. The frame's stability is impressive due to its low height and stable legs.
Although this isn't a 5-piece king bedroom set with storage, you'll receive two nightstands and a dresser. Thanks to the two-drawer setup, you'll find the former offering generous room. You can fit bed sheets and anything else inside. The white finish is ideal for putting lamps on the top surface.
As for the dresser included in this 5 piece bedroom set king size, it features the same style as nightstands. You'll find six spacious drawers and a tall mirror on top. It's perfect for checking out your appearance before leaving the room.
Final Thoughts
Many creative approaches exist to renewing your bedroom décor. Even a simple adjustment can look like a major change. And if you want an overhaul, go for an entire item collection. It will ensure matching furniture pieces, simplifying your selection. 
Three-item collections might be enough for compact spaces. But for larger areas, consider a 5 piece king bedroom set. It will deliver all items you need. And you can order it online from reputable stores. The entire set will arrive at your doorstep without you leaving the house, which is an opportunity you shouldn't miss!.