It seems you don't have much freedom when decorating the sleeping area of your bedroom. But there's no reason why you shouldn't look for a creative solution. Who says that you need to have identical nightstands on both bedsides?
This guide discusses creative ideas on how to design the area you sleep in like a professional. You could go with a 3 drawer nightstand but experiment with shapes, sizes, and colors. Keep reading to learn how to stick to trendy designs that make your bedroom look attractive! 
How to Style Nightstands?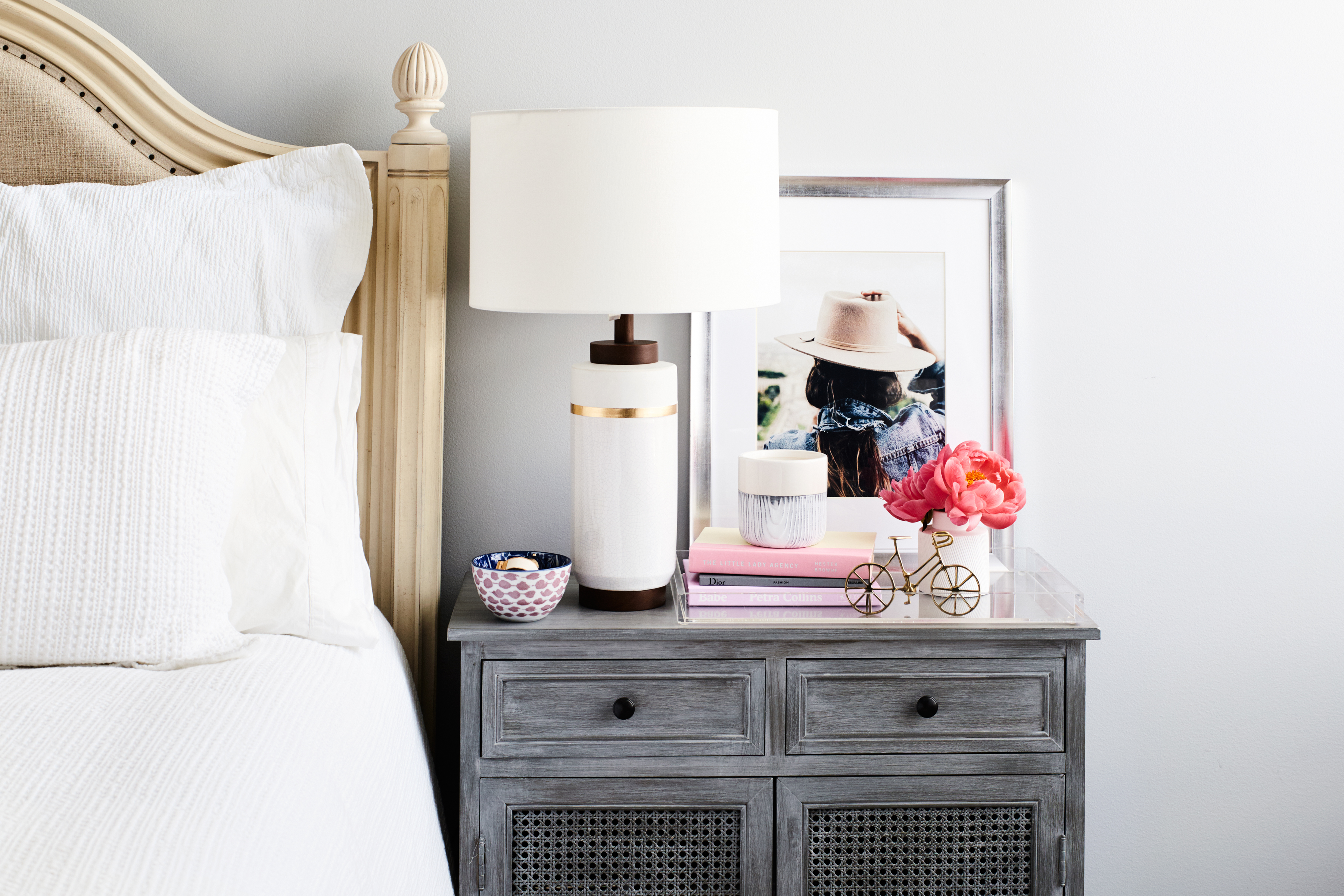 The first task is not to skip the basics. A bed is the focal point of the sleeping area. It's imperative to begin by picking a suitable unit. Apart from deciding on a size, consider styles, colors, and details like headboards.
After selecting the bed, it's time to proceed with styling nightstands. Here are the tips to help you think outside the box!
1. Stick to the Same Style
You don't want identical nightstands on both bedsides. But that doesn't mean you can't stick to the same style. Moreover, it's the easiest approach to fitting different units into the overall bedroom design.
Did you pick a modern bed with a white gloss finish? If yes, go with contemporary nightstand designs. You can go with a black glossy piece on one side and choose gray for the other position. 
Feel free to experiment with different sizes and shapes based on your needs. You might need a 3 drawer nightstand to fit books and other essentials you want nearby. But your partner might not require any storage compartments. So don't hesitate to place a nightstand table on the other side. Adding a lamp or decorative items will ensure it doesn't look that "empty" compared to the other piece.
2. Apply Different Styles with a Few Tricks
Experienced designers enjoy challenging tasks. Combining multiple styles within a single room belongs to that category. Fortunately, nightstands are perfect for this approach. The trick is in separating the areas and using these pieces as "dividers" between different styles.
Put the bed close to the wall, but leave enough room for a nightstand. These two furniture pieces need to be of matching styles. They will create the first area. Now, pick the desired nightstand for the remaining room section. It doesn't need to have any connection to the item on the other side. Furthermore, you can combine vintage and futuristic styles with this method.
Once you add the second nightstand, consider furniture pieces that match its style. Go with a dresser featuring the same color, or add a chair next to it. Those will create an entirely differently designed area. However, you'll have two meaningful sections. Thanks to that, the bedroom will look attractive.
3. Experiment with Various Materials
Bedroom design is boring if all furniture pieces are from the same material. Nightstands are the ideal items to break this monotony. While they aren't the focal points, they are still important enough to set the tone.
What about the materials you can combine? You can go for eco-friendly compounds from the same family. For example, a nightstand made of wicker goes well with a wooden bed frame. But this ultimately comes down to your preference. 
You can put a 3 drawer white nightstand made of wood and combine it with a metal piece on the other side. If you go down this road, experts suggest considering the thickness. You shouldn't choose thin material for one and massive for the other nightstand. And if compounds are different, don't experiment too much with colors.
4. Mitigate Different Heights with the Power of Accessories
You might have found an adorable 3 drawer mirrored nightstand. The problem is it's not only different to the one your partner likes, but it's also considerably higher. That's where the power of accessories comes into play. You can put matching table lamps or use books as a simple trick to ensure the height difference is unnoticeable.
Another way to improve visual symmetry is by using the walls. Put picture frames at identical heights on each bedside. You can go with symmetrical wallpaper, too.
5. The Importance of a Common Thread
Professional designers encourage getting creative when assembling your bedroom. Don't hesitate to mix a 3 drawer wood nightstand with a metal unit without storage compartments. The trick lies in finding a common thread. You don't want it to look like you selected random nightstands and threw them in your bedroom.
Instead, deciding based on a reason you find valid is imperative. You can go with different materials. However, keep the colors within the same family, or pick similar heights. If there's a common thread and you are happy with how the area looks, go ahead with that design.
6. Don't Have a Second Nightstand at All
Who says you need to have a couple of nightstands? Perhaps you picked a compact-sized bed, and you are sleeping alone. It's not necessary to push it all the way next to a wall. Instead, you can simply forget about the other nightstand.
Homeowners enjoying a minimalistic approach will love this idea. It will free up space at the bedside to ensure better traffic flow. And you can think about nightstand replacements for that position. For example, a plant or a lamp on the floor is an excellent fit, especially with a low bedframe.
You can put a dresser or a drawer chest. If you love reading, you can replace the other nightstand with a bookcase. It's an excellent choice for modern and contemporary designs.
7. Find Intriguing Shapes and Details
You can experiment with various colors and styles, but each nightstand should add value to the overall design. An intriguing detail or color combination is a wise pick. How about switching shades? Use white drawers and gold legs on one side and a reverse combination on the other nightstand.
Textures and finishes can serve as intriguing details. Pick a pedestal nightstand with faceted edges and combine it with a glamorous drawer chest on the other side. The idea is for the difference to seem intentional and balanced.
Best Nightstands to Put in Your Bedroom
Now that you're familiar with professional tips regarding nightstands, it's time to pick suitable furniture pieces. It's imperative to stick to premium manufacturers. If you need suggestions, check out the top-rated nightstands listed below!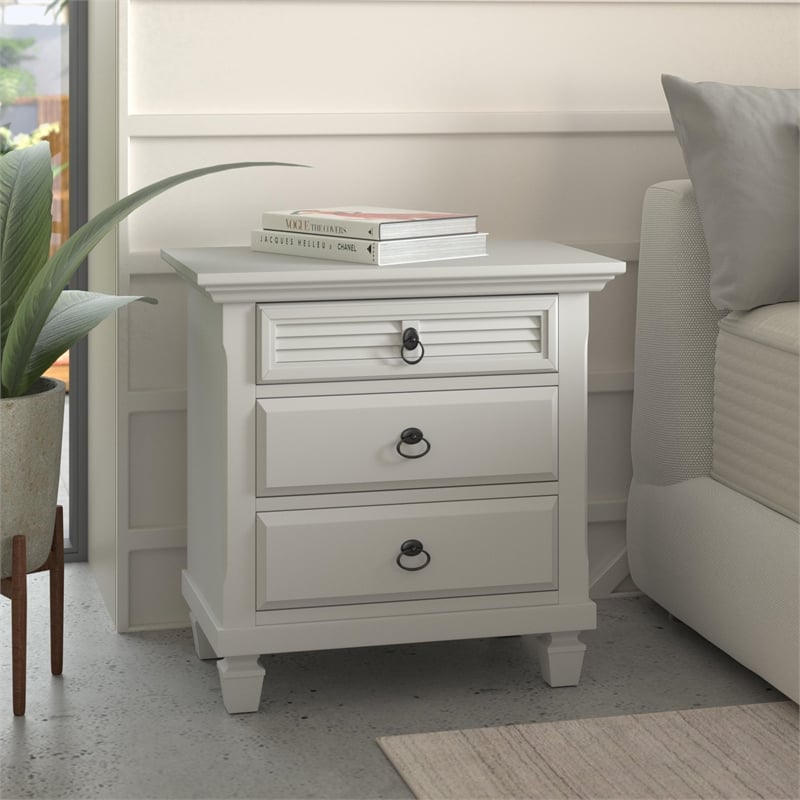 Alpine Furniture designed this white nightstand from pine solids. It ensures excellent quality and maximum durability. The manufacturer added legs to get several extra inches, so the dimensions are 28x17x28." 
The nightstand features a standard three-drawer design. But the top compartment is different. It has a unique front design and felt lining inside. The ball-bearing metal glides for drawers ensure a durable opening mechanism.
Alpine Furniture makes this a true gem at entry-level nightstands. Its modern, but classic design makes it ideal to combine with other furniture pieces.
Glory Furniture went with the X frame shape when designing this unit. The crossed leg form is excellent if you want a touch of industrial style in your bedroom. The assembly is simple since you only need to connect the drawer to the frame.
The generous compartment size ensures you can keep all your essentials out of sight. Thanks to the spacious storage, you might realize there's no need for a black 3 drawer nightstand. And it's worth noting this unit is available in other colors, such as pink and brown.
Modway Caima Nightstand would match a low bed frame. It's only 11.5 inches tall, and the compact size won't take up much room. The inner drawer design is fairly spacious, especially in terms of depth. You can put anything from bed sheets to books and other essentials inside.
The manufacturer used MDF combined with brown walnut veneer. It ensures the nightstand's price remains affordable. The base is surprisingly stable, and the unit comes with footpads. They'll protect the floor from scratching, especially if you move the nightstand.
Do you want a furniture piece that would add luxury to your bedroom? Homey Design created this premium nightstand with the idea of being the area's focal point. Its dimensions are 28x20x28, but what captivates attention is the unique pattern on the front side. Checkered mirror design delivers originality that doesn't deserve a place in the corner. Instead, put it on the other side of the bed toward the room's center.
The base material is durable wood to ensure maximum lifespan. The manufacturer also added composite compounds and the original mirror finish. The silver color delivers a modern touch but also fits industrial styles.
Final Thoughts
The sky is the limit when it comes to mixing and matching nightstands. The only considerations include your preference and creativity. If you'd like a 100% unusual design, go with different colors and heights. However, keep the styles similar because you need something to connect the pieces into an attractive overall appearance.
Don't forget the importance of getting a high-quality nightstand from a reputable manufacturer. Online stores have an admirable selection of these and other furniture pieces. They simplify the ordering process and ensure the unit arrives at your doorstep. Take advantage of this opportunity and pick the ideal nightstands today!