A bed is a significant feature in your home. Getting a good night's sleep is essential. Rest has many benefits, such as lowering your risk for health concerns and reducing stress. This means that a good mattress and proper bed frame are imperative. You might consider a fabric platform bed if you're in the market for a new bedroom setup. You'll likely have questions about this purchase. We will answer some of the most asked questions about platform beds. 
Platform beds are extremely popular. There are many reasons that they are well-loved. This article should help provide some insight into whether this is the right bed for you. 
Platform Bed FAQs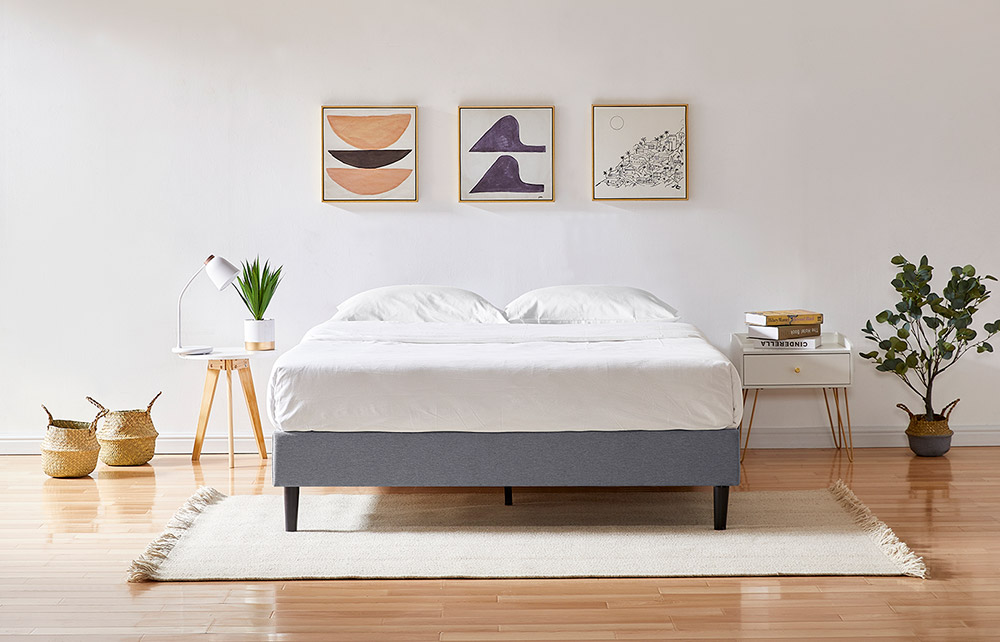 These are some of the most popular questions about platform beds. This article is for you if you're considering a platform bed with fabric headboard. By the end of this article, you can consider yourself a platform bed professional! 
1. What Is a Platform Bed?
A fabric platform bed is a type of bed frame for your mattress. It features supportive slats that are built into the frame, often throughout the center. A platform bed varies from a traditional bed frame because it has a supportive center that doesn't require a box spring. 
Platform beds can be purchased with or without footboards and headboards. If you buy without the footboard and headboard, you can easily customize the look of your bed. Many people like having this level of personalization. You can also purchase platform beds with storage space underneath. This is perfect for smaller rooms that don't have space for a dresser. 
2. Who Is a Platform Bed Best for? 
Platform beds are suitable for anyone. There is good support throughout the entire bed. If you have a weak back, a platform bed can provide your needed stability. Side sleepers also benefit from platform beds. Side sleepers require support for spinal alignment. This can be difficult to find with thick mattresses and box springs. Platform beds can be the perfect solution. 
3. Is a Box Spring Needed?
Platform beds are strategically designed not to require a box spring. The actual frame has all the support and a sturdy base to support the mattress. This is especially nice for people who like a lower bed. However, some people prefer a higher profile. In this case, a box spring can be used. 
Though a box spring isn't required, platform beds can still accommodate one. It will likely make your bed relatively high. Determine your bed's preferred height, which will help you with your decision-making. 
4. What Are the Benefits of a Platform Bed?
There are many benefits to platform beds! If you are considering a platform bed, one of these benefits might help you decide. 
Cost-saving. Mattresses are an expensive investment. When you purchase a mattress, the last thing you want to spend money on is a box spring. A platform bed doesn't need a box spring to support your mattress. All you'll need to buy is the bed itself. Platform beds are comparable in price to beds that need a box spring. This means that you'll end up saving money by opting for a platform bed! 

No springs. Many people hate the feeling of box springs. After all, they use literal springs that can change your mattress experience. Mattress trends have changed significantly. Now mattresses are made of comfortable foam. You can avoid springs which means you can have a better night's sleep. 

Looks good. If you want a modern, clean look, then a platform bed is a great way to go! The look is perfect for contemporary lovers. Bed skirts have been outdated for several years. With a sleek platform bed, you won't need a bed skirt that will make your bedroom look dated. 

Great support. Get a firm sleeping option with all of the support you need with a platform bed. Platform beds don't lack any support. You will still get the comfort and stability you need without sacrificing the style of your bedroom. 

Add storage. If you want to add storage to your platform bed, you can! There is plenty of room underneath a platform bed for you to add drawers. This is great for smaller spaces or children's bedrooms. 

Low profile. If you prefer having a bed that is low to the ground, this is a great option. A platform bed will keep your mattress low. This will make getting out of bed comfortable and with no strain. This is great for children, those with mobility issues, and anybody who is relatively short. This will also be ideal if you have pets that can access the bed. 
5. What Are the Drawbacks?
Like anything else, there are some cons to purchasing a platform bed. Nothing is one-size-fits-all. You must weigh the pros and cons before purchasing. Depending on your preferences, there may be a better option for you. 
Some of the main cons of a platform bed include:
The low profile can be more difficult for tall people to exit or enter the bed 

Some people find that a platform bed is too firm for their liking 

Platform beds can be heavier, which makes them more challenging to move
6. What's the Best Material?
There are many different materials for platform beds! In particular, there are three main types: wood, metal, and plastic. Each material has additional benefits. 
Wood beds are incredibly sturdy. They can offer a beautiful rustic look to any room. They can come in a variety of different stains or paint colors. One of the main downsides to wood is that it is very heavy. You may want something lighter if you change your room around. However, wood is a good option if you want something that will stand the test of time. 
Metal can give an industrial feeling to any room. It is extremely unique and can add a traditional vibe. Metal can either be solid steel or hollow wrought iron. Hollow metal is much lighter than wood, making it easier to move around. However, it doesn't offer the longevity or durability that wood does. 
Plastic doesn't look as luxurious as wood or metal. It is light and easy to move and will still have some decent durability. Plastic is good for a child's room. 
7. What Sizes Are Available?
Platform beds are typically available in several different styles, much like a traditional bed frame. Determining the best bed size for your needs can be tricky. You'll want to consider who will be sharing the bed, the height of the people using the bed, and the space in the bedroom. If you are over 6'6", you will want a large bed, such as a California King. Many couples find that having a King bed to share is the most comfortable. However, a Full or Queen bed is also suitable for two people. If you have limited space in your bedroom, you may opt for a smaller mattress. 
For children, we recommend starting with a smaller bed at first. After a child moves from a crib, you can graduate them to a Twin bed. 
Bed sizing is as follows: 
Twin: 39 inches x 75 inches

Full: 54 inches x 75 inches 

Queen: 60 inches x 80 inches 

King: 76 inches x 80 inches 

California King: 72 inches by 84 inches
Not all bed styles will be available in all sizes. Determine the best size for you and then look at the selection of platform beds available. 
8. What Styles Are Available?
Let's face it: style matters no matter what you do. Adding style to your home is imperative. You want your home to reflect your personality. This means choosing pieces that compliment the space. Platform beds do this perfectly. 
There are many different styles of platform beds available! In general, there are three types of platform beds that you can choose from. These styles are as follows: 
Storage Platform. The storage platform is the way to go if you need additional storage. These beds offer built-in storage drawers. This will utilize the space underneath the bed. This is great for small rooms. It is also a stylish way to optimize the space. 

Classic Platform. The classic platform is exactly what you imagine when you envision a platform bed. It is just a simple bed frame that holds a mattress. You may add a footboard and headboard for more function or appeal. 

Floating Platform. The legs of the platform bed will be moved towards the center. This will create a unique illusion that the bed is floating. This is great for minimalistic or modern styles
. 
Conclusion
If you're considering a platform bed, this article hopefully provided some insight. These simple questions are common among those looking for a new bed. Fabric platform beds are gaining a lot of hype. Not needing a box spring has become preferred among homeowners. It makes for a more comfortable sleep and saves you money. If you want stable, firm, and restful sleep in a sleek-looking bedroom, then a platform bed is the way to go.