Your bedroom requires several different furniture pieces for a perfect final product. Each piece serves an important function and stylistic property. There's no exemption when it comes to bedside tables. Your bedside tables have to add function to your space. However, you want them to still look good. We are here to help with some top rules to dominate your bedside tables. 
Bedside tables, often called nightstands, are the bed-height tables that store belongings within arm's reach of the bed. Whether you're looking for a swanky black and gold night stand or you prefer a muted or traditional wooden appearance, we can help! 
Rules for Your Bedside Table
These rules will help you make the most out of your space. They will help you determine the best style of nightstand and how to make it look flattering in your bedroom. Your bedside table should elevate the rest of your room. With this article, you'll learn how to do just that. 
1. Choose Your Bedside Table Style
Bedside tables come in all different shapes and sizes. You can choose from a gold night stand to a mirrored mini chest of drawers. Some people prefer larger nightstands, whereas others like a sleeker look. There are many different things to consider. In general, these are some of the most popular styles on the market: 
Bedside chest. Bedside chests are usually wider and longer than other nightstand options. They are excellent for storing undergarments, socks, and pajamas. This will add a significant amount of storage to your bedroom. Bedside chests often have about two or three deep drawers that can accommodate a lot of storage. The top of the cabinet also makes for a convenient flat surface for you to store your water or remote. 

Bedside cabinets. Not everybody loves an old-fashioned drawer. Some people prefer cabinets to store books, personal belongings, and memories in. This is when bedside cabinets come in handy. A bedside cabinet may come with a bedside drawer to offer both options. In general, these can store larger items than a bedside chest. 

Pedestal tables. If you don't see the need for extra storage, then a pedestal table might be for you. Pedestal nightstands are very sleek looking. They simply have a slim base and a flat surface for you to place a lamp, water, or other belongings on. This isn't the most functional option. However, it is a good addition to a contemporary or minimalist theme. 
2. Get the Height Right
The height of your bedside table or nightstand is important! Not only will it make the room look better, but it will minimize the strain on your back. We suggest having the top of your nightstand at the same level as your mattress. If there is any discrepancy, it's better for the nightstand to be slightly taller than the bed. 
Reaching down to the nightstand can cause strain and is more difficult. Reaching up isn't as hard on the body. It's often best to get your bed situated where you want it and then find a nightstand that complements the bed. After all, some people prefer sleeping higher or lower. 
3. Use Space to Your Advantage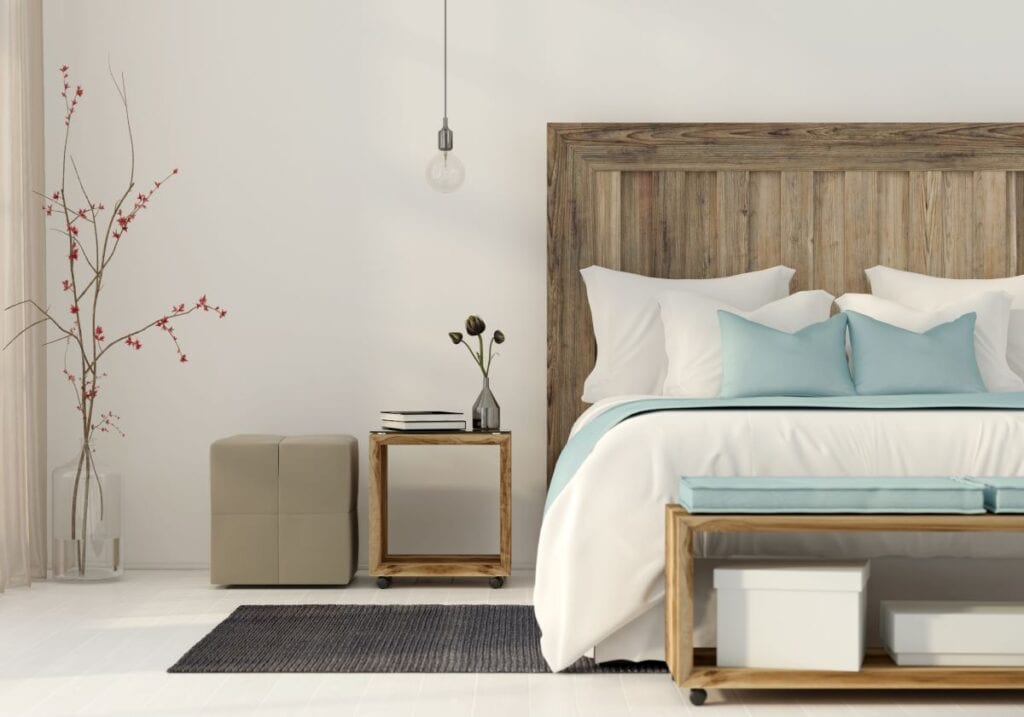 Using space around your nightstand will make your bedroom look much more organized. If your bedside table is pushed up flush against the bed, your room may look like a dorm room. If you have space in your bedroom, consider adding a gap between the nightstand and the bed. This will make the area look much larger and less overwhelming. 
If you find yourself short on space, it might be better to downsize the nightstand. By purchasing a slightly smaller nightstand, you'll have more room to create space on either side of it. Overall, this will make the bedroom's dimensions look more pleasing to the eye. 
4. Follow the Rule of Three
Interior designers have this Rule of Three that has remained steadfast in the industry. It suggests that there should only be three main objects on any surface. This creates a cohesive, entire space without it becoming cluttered or overwhelming. 
When decorating your nightstand, you may choose these three objects: a lamp, a picture frame, and a vase. Another option is a lamp, a stack of books, and a bowl for jewelry and your glasses. 
Using this scale will immediately elevate your space. It is a small and easy rule to remember. However, it'll make a big impact. 
5. Make a Statement
In the 1990s and early 2000s, one general rule of bedroom furniture followed: buy a set. The bedframe, dresser, and nightstands all matched. Now that we are in the 2020s, we have a little more flexibility. Instead of opting for a matching set, choose pieces that complement but don't completely match. Interior design loves versatility and risk-taking. 
This allows you to make a statement! If you have a relatively neutral dresser and bed frame, then use your nightstands as a statement. Choose different textures, styles, or colors. This will add visual interest to the space. This allows you to show your personality as you shop! The added flexibility to interior design has made it much more fun. 
We love a black and gold night stand. They add a bit of glass with some edge to any space. 
6. Accent With Soft Features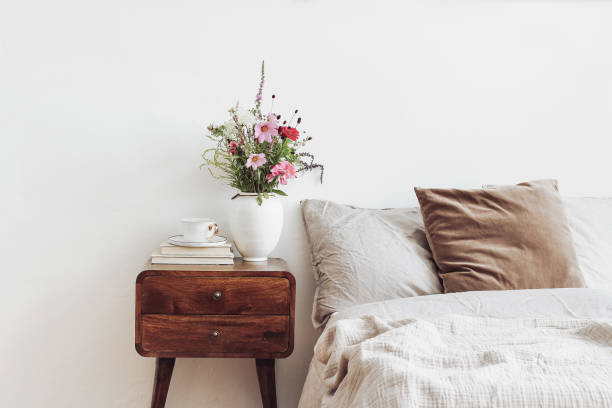 Your bedroom is where you sleep at night. You still want to create a peaceful and soothing environment for you to lay your head down. There are many ways to do this. Don't worry, you don't have to paint your room a spa shade of blue and only use white linens. Instead, accent your nightstand with delicate features from nature. One of our favorite ideas is to bring flowers biweekly. Bringing in elements from nature is an excellent way to unwind after a long day. 
These flowers will also add a level of beauty to your nightstands! 
7. Utilize Lighting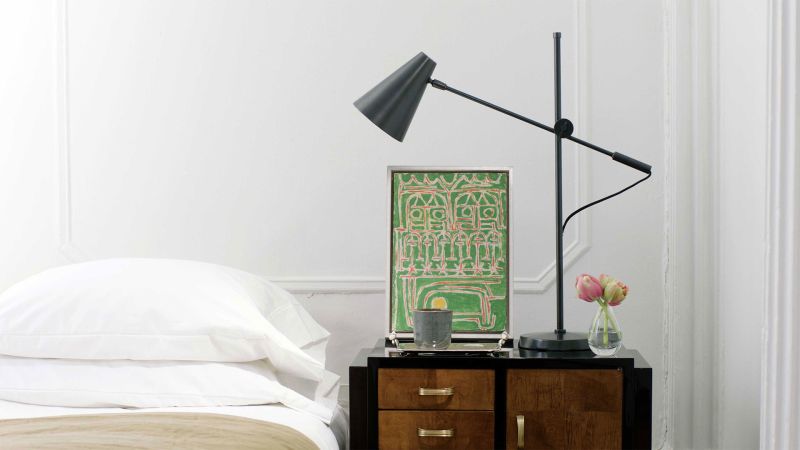 Lighting is a huge requirement in a bedroom! It allows you to read books or watch television. Adding thoughtful lighting is one of the most important factors. You may consider a convenient tabletop lamp. This is a great way to brighten up the space and decorate your nightstand. However, if you want your bedside table to remain free of lighting, you could consider hanging lamps or floor lamps. 
8. Layer for a Multi-Dimensional Look
Texture and layering have become more popular over the last several years. Layering on your bedside table is a great way to look thoughtful. This can be tricky to do without it becoming cluttered. One recommendation is to lean a simple photo up against the wall. This will create a lovely backdrop. From there, you can begin to decorate around the image strategically. This may include a lamp, bowl, vase, or books. 
When layering, you'll want to be mindful. Make sure you don't allow the space to become overwhelming. When done right, it'll have a sleek and timeless effect. 
9. Stack Books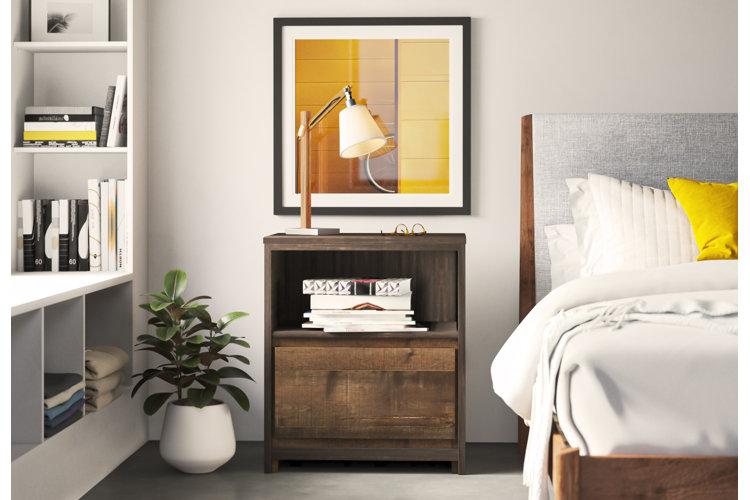 Are you a big reader? Use your hobby as an excellent piece of decor. Choose some of your favorite books and stack them. You don't want to stack them too high. Instead, choose 2-3 of your favorite books. Make sure that the colors of the spines complement one another. This small feature will pull out a huge part of your personality and begin to add style to your bedroom.
If you aren't a big reader, you can always purchase smaller coffee table books off the internet. These books are styled to look good on any surface. They will add the additional style you're looking for!
10. Use a Bowl for Jewelry and Glasses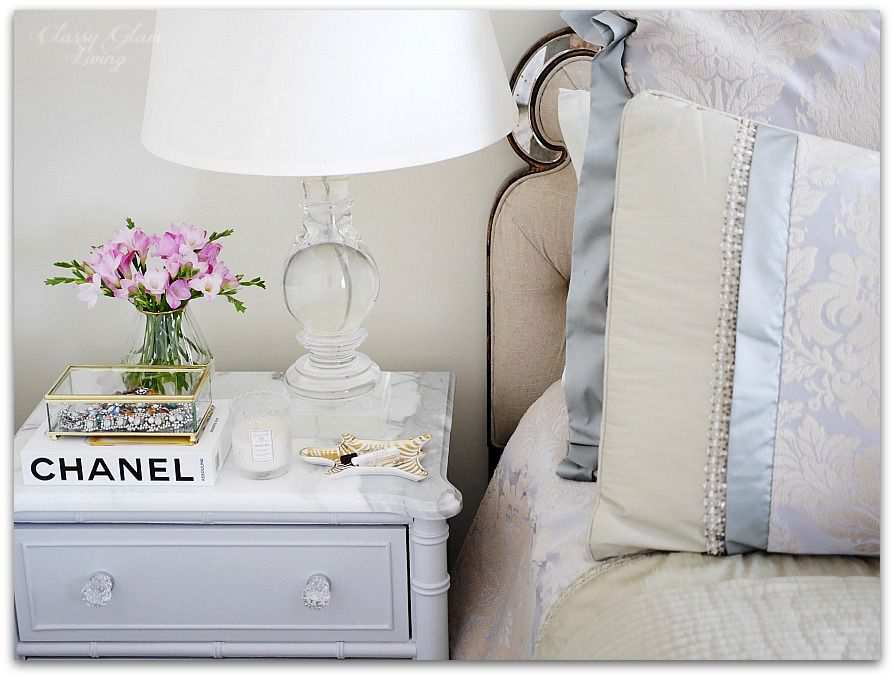 Purchase a nice slim bowl to put on your bedside table. This is perfect for taking your jewelry and glasses off at night time. It will keep your essential belongings in one safe place. When it isn't holding your jewelry, it will still act as a nice piece of decor. 
11.  Add a Carafe of Water
Water carafes have come a long way! Adding one to your bedside table will look sleek and classic. It will also work well for when you get thirsty in the middle of the night. Browse through some beautiful clay, metal, or glass carafes to find one that matches the rest of your decor. 
12. Organize Your Cords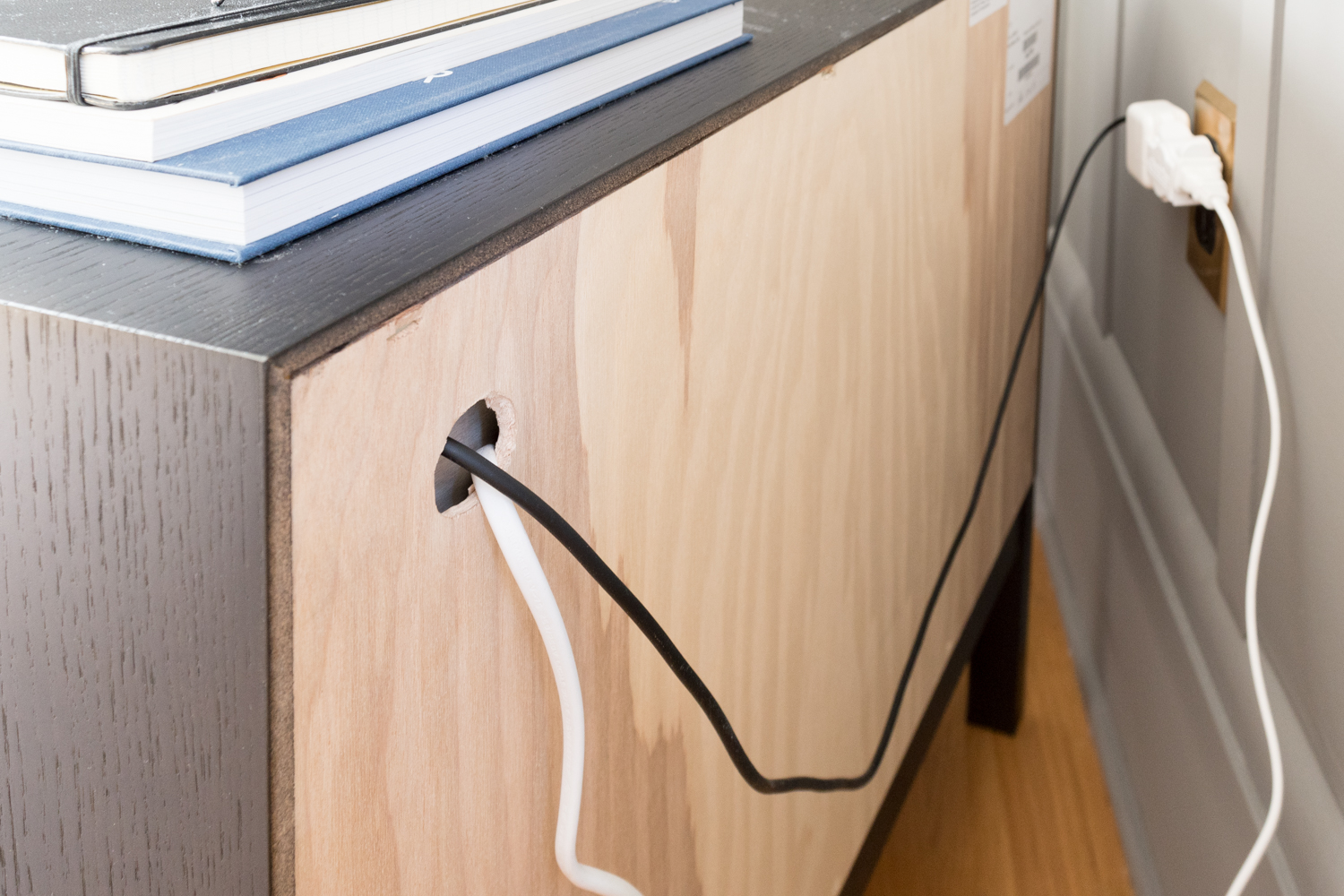 We are all victims of charging our technology near our beds! This means that there are probably several cords. You may have a cord for your alarm clock, phone, smartwatch, and more. This can quickly become cluttered and look messy. 
Take the extra step to organize your cords. Either hide them in the drawers or purchase a cord organizing system that will keep them put away. 
Conclusion
It's important to know how to style a nightstand if you are in the market for one. Following some useful tips and tricks to make your nightstand both functional and beautiful is highly recommended. Whether you want a black and gold night stand or a traditional wooden bedside table, these tips can help it look like it's right out of a magazine.